Please bookmark this page as a reference.
This is a "behind the scenes" page for Our Hosts.
Greetings and Welcome! We are very happy to be talking with you about Inclusion Catalyst Episode Hosting, and we're delighted that you're interested in joining us in this endeavor. Here's a brief description of the tasks and steps involved in hosting one's Inclusion Catalyst episode. This page is a work-in-progress. Keep checking back as we will refine this reference over time with your suggestions and feedback.
Inclusion Catalyst Episode Hosting
Everything starts with your idea for an Inclusion Catalyst episode. A sample list of potential topics (which is by no means comprehensive) can be found here. This is merely a list of things that are within the Inclusion Catalyst scope. We are certainly open to hearing what else you might suggest. There is nothing wrong with revisiting a topic, or even covering topic-adjacent subject matter.
Contact Inclusion Catalyst to make sure everyone is on the same page with your proposed topic / idea, and the way you plan to address it. We're informal–a quick conversation will suffice, and we want to keep track of projects on deck. Send us a note via the Contact Us page or via our facebook page, and we'll be in touch with you ASAP. (If we've already spoken via email or phone, please feel free to reach us that way, too.)
Here's a visual representation of the ensuing work-flow:
Prep For Your Recording
Of course, this includes things like conducting your research, wrangling your guest(s), and making sure you're set up to make a good audio recording. Be sure to check out this Podcast Wizardry writeup for more pre-recording considerations. (Full disclosure, Podcast Wizardry is Mickey's side-gig.)
Here's a handy checklist that enumerates the elements of this process.
Make Your Recording
Episodes can be anywhere from fifteen to sixty minutes in length. The most important thing is that the topic at hand gets properly covered, and that you're having as much fun as you can with the content.
Chances are, you're using Zoom or something similar to make the recording. Please make sure you're recording a separate audio file for each participant. It is sometimes easier to edit multi-track recordings.
While You're At It
Give yourself ten seconds of silence at the start of each recording session (with everyone's mic open) to establish a noise floor for the episode. This may help remove background noise, later. AND, take a minute to familiarize yourself with good microphone technique, which is a good way to solve some recording problems before they become an issue.
The recording should then begin with your introduction of yourself as THE HOST for this episode of the Inclusion Catalyst, followed by the introduction of everyone else at the "table" with you. (Ex: "Hello and welcome to the Inclusion Catalyst. I'm your host Jane Doe. I design cold-fusion power converters. Today, my guest is Marty McFly, who is a time traveler…")
At the end of every recording, you should leave an opportunity for your guests to "plug themselves," or invite them to leave contact information in case a listener wants to be in contact with them. And after that, you should do the same for yourself.
Here's a handy reference for how to do the intro & exit.
After The Recording Session
After your recording session, review the entire recording. Please note where any edits should be made with their time-stamp. (Ex: Remove dog barking at 12:42, or Delete everything from 4:10 to 5:04.)
Draft your show notes and episode summary.
Please do feel free to edit your own audio.
If you do your own editing, you might make your own "preview / teaser" snippets for sharing on your social media channels.
Optionally, transcribing the episode (and posting the transcript) helps with SEO. You could use a service like otter.ai to generate a transcript, but you should be sure to review it for accuracy.
Send to Inclusion Catalyst
Include your short bio and a headshot or any photograph that Inclusion Catalyst should use for this episode. (Your headshot plus any guest headshots.) Pictures relating to the subject matter are also welcome, but they must be copyright-free for Inclusion Catalyst's use.
Send all files to Inclusion Catalyst: Package all your audio files, your editing notes, imagery, transcript, and show notes in one folder, and use Dropbox, Google Drive, or something similar for this purpose.
Inclusion Catalyst Takes Your Recording And…
Inclusion Catalyst will edit the episode (if you haven't already done so), and will queue the episode for publishing.
Inclusion Catalyst will make sure the website is up-to-date with all your information. We want to make sure you're properly presented on the website as an episode host, and we want to make sure your episode descriptions are appearing properly.
Social Media & Marketing
Once the episode goes live, Inclusion Catalyst will make its social media rounds for that episode. It is critically important that you do the same among your communications and social media channels.
Here's a handy checklist that enumerates the elements of this process.
Celebrate
Raise a glass, do a dance, big hugs for everyone involved! Celebrate a job well done!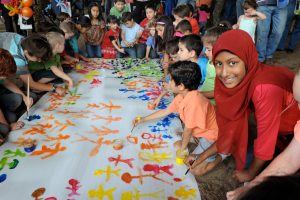 Reference Download-ables
Here's a handy checklist that enumerates the elements of this process.